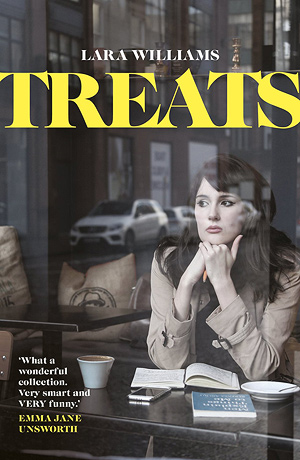 This review was originally published at The List Magazine.
Once in a while a small publisher will bequeath you a wee gem, and Lara Williams' debut collection, Treats, is one such book.
Published by Glasgow's Freight Books, Treats chronicles the milestones of twentysomething life in the 21st Century and its perils – taking in experiences ranging from graduate job-hunting to new motherhood, with all of the tough decisions, break-ups, and more of life's detours. No matter the situation, Williams' articulately observed scenes capture the throes of early adulthood and tableaux of life at the very moment of change.
Far from the trendy internet vocabulary of 'adulting', these are stories firmly grounded in the contemporary short story form. Williams' rare mastery is demonstrated through her successful use of second person narration and risky plays with potentially clichéd subject matter. Staccato stories sit alongside forays into longer, more traditional narrative styles like that of the title story 'Treats', which has a distinctly novelistic feel.
Joining the consistently solid narration across stories are remarkable turns of phrase and evocative prose as the author laces the narrative with tangible, almost Instagram-able details that hint at her characters' deepest desires. The through-line between these stories and varied narrative voices is an ability to imbue timeless life experiences with contemporary meaning. These are characters who can't look themselves in the eye, who stay still in fear of what comes next. They're women who worry about the space they inhabit, and men whose anxieties are expressed in sneezing fits. These hints create deep characterisation that allows the reader to forge great empathy for the personalities whose stories, at between three and six pages, feel eerily complete.
With hints of Noah Baumbach's youthful existentialism and shades of Janice Galloway's visceral prose, Lara Williams is one to watch.
Treats is out now, published by Freight Books.