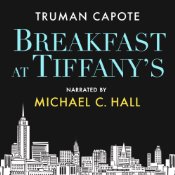 As you may have guessed from my last blog post, I'm a recent and devout convert to the world of audio.
It started with the bookish podcasts: Book Talk made way for Book Riot, which led me on to riches. Pretty soon I was listening to up to 10 podcasts per week. Non-fiction audiobooks were next on my hit-list, but save for a Sedaris story or two, I hadn't quite gotten around to them yet.
So last week when Audible emailed offering me the new audio version of Breakfast at Tiffany's for review, I figured I'd give it a go.
I read Breakfast at Tiffany's by Truman Capote about 5 years ago and thoroughly enjoyed it. It's a slim novella, 100 pages at most, and the recording comes in at a modest 2hrs 50 minutes (and only £4.54 to buy it outright). This latest recording is narrated by Michael C. Hall (aka Dexter from Dexter). Having worked the audio muscle, I really enjoyed the audiobook experience this time around.
Hall's narration is smooth and engaging, and having read the book before I could tune in to the subtext and more subtler aspects of his performance. However he does get negative points for female voices – Holly Golightly is supposed to be pretty irritating, but listening to a man do a high-pitched voice is pretty cringeworthy.
Despite this pretty large drawback, overall it was great to have this story follow me around the house of a weekend and to revisit the world of 1930s New York, mean reds and all.
Consider me converted: I signed up for a trial membership and the next book on my TBR is One Summer: America 1927, written and narrated by Bill Bryson.
You can sign up for a free trial (1 month, 1 free credit) on the Audible website at http://www.audible.co.uk/
What is the best audiobook you've listened to? Leave your recommendations in comments!