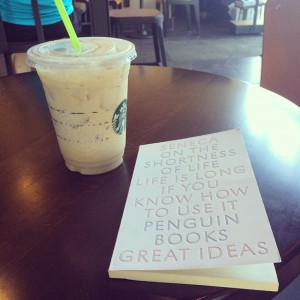 Happy Friday! Again. Where does the time go?
I'm still in California, heading home this weekend.
This week I've been mostly reading books (including The Braindead Megaphone by George Saunders and Friendship by Emily Gould) and enjoying the last of the sunshine I'll get this year.
Here are some other interesting reads I found around the internet.
–– ON ROBOTNIC.CO ––
It's still Blog Every Day August, but I took it easy this week and published 2 new posts: The ALS Ice Bucket Challenge & Letters of Note.
On my business blog, I blogged about Keeping it Relevant on Social Media.
–– ARTS & CULTURE ––
One of my favourite podcasts, You Must Remember This, is now part of a new podcast network called Infinite Guest – with many more to discover.
Guess what? Millennials are reading 'traditional' magazine publishers, too. No kiddin'!
OMFG it's the PSL! The pumpkin spice latte is back, and this article about it was surprisingly interesting.
–– DIGITAL ––
Want to start something online, but feel like you missed your chance? You are not late. Not even close.
Everybody Smiley Poops. Including me. For the 'emoji social network' she mentions (which is probably satire) I picked smiley poop, shooting star, smiley poop.
Pure productivity porn from Life Hacker. The archive will definitely come back to bite me. I'm Ira Glass, and This is How I Work.
On The Science of Us: What All This Bad News Is Doing to Us? 
–– &c. ––
Ferguson has been in the news a lot these past couple of weeks. Reniqua Allen writes, It's time to admit that America will never really include black America.
Wesley Morris mixes Ferguson commentary and film review in Let's Be Real on Grantland.
Film journalist Matt Zoller Seitz also takes on the issue, and his formative experience in white privilege in his piece Different Rules Apply.
What were your favourite reads of the week?