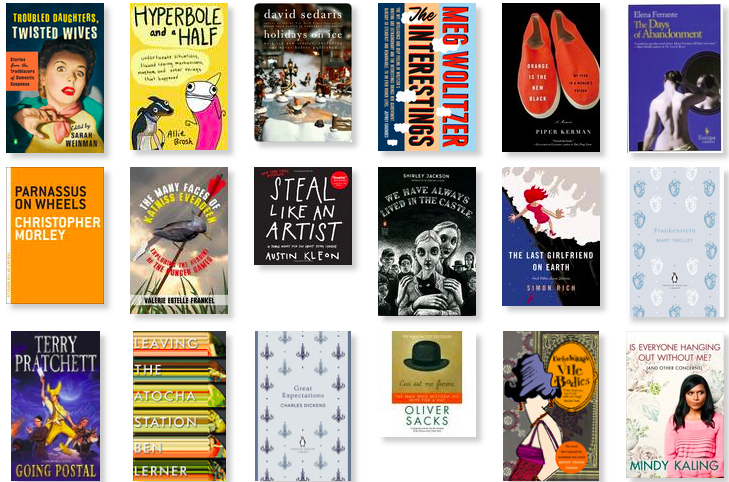 It's been quite a year for books and reading!
This year I read the most I've ever read in a single year: 76 books. My goal has been 50-52 every year since 2009, and joining a new community of readers and reaching out to reader friends has really increased my appetite for new books.
You can see my capsule reviews of all 76 books over here. But that's a lot, so let's break it down a bit…
Top 5 books I read in 2013:
The Blind Assassin by Margaret Atwood
Parnassus on Wheels by Christopher Morley
Frankenstein by Mary Shelley
Where'd You Go, Bernadette? by Maria Semple
Down the Rabbit Hole by Juan Pablo Villalobos
Honourable mentions:  Troubled Daughters, Twisted Wives edited by Sarah Weinman, We Have Always Lived in the Castle by Shirley Jackson, top 3 in the following list:
Top 5 books I read in 2013, also published in 2013:
The Other Typist by Suzanne Rindell
Let's Explore Diabetes with Owls by David Sedaris
A Tale for the Time Being by Ruth Ozeki
Burial Rites by Hannah Kent
The Interestings by Meg Wolitzer
Honourable mentions: How to Get Filthy Rich in Rising Asia by Mohsin Hamid
Statistics!
Male vs Female authors: 57% Male / 43% Female (43/32 books) – Honestly, I thought this would be slightly more even. However I did read 6 Scott Pilgrim books, and re-read The Hunger Games and Catching Fire an additional time each which, had I counted, would have changed things slightly. Considering I didn't make any efforts towards gender parity, I'm happy enough with this.
Genre Breakdown – More by type than by literary genre, but this year saw a rise in graphic novels, several children's books that I didn't really enjoy, and probably about my average number of memoir/essay and short story collections. I plan to read more non-fiction in 2014. Here are the details:
Novels: 39
Novellas: 5
Graphic Novels: 6
Children's (Middle Grade or below): 5
Anthologies: 10

0f which short story collections – 6
of which essay collections – 4

Memoir (novel-length): 3
Non-fiction: 7
Personal Reading Habits
One of the highlights of the year for me was joining the BookTube community on YouTube, first by watching and commenting since last year, then by making my own videos from March 2013. It's been an amazing way to read like-minded readers and make new friends, and I plan to keep it up in 2014.
I've also kept up with my book club here in Glasgow, where we take turns to choose a book and host the group on a monthly basis. We read some good and some bad this year (as in ever year!) and I really enjoy having this as a monthly social get-together.
This year I also began another mini book club with my friend Kevin – my whip-smart friend from back in the halcyon days of UCSB who's now teaching and taking a Masters in English lit. We're reading new fiction and it has spurred me to read more current releases.
Check back to see my reading goals for 2014! How was your reading year?