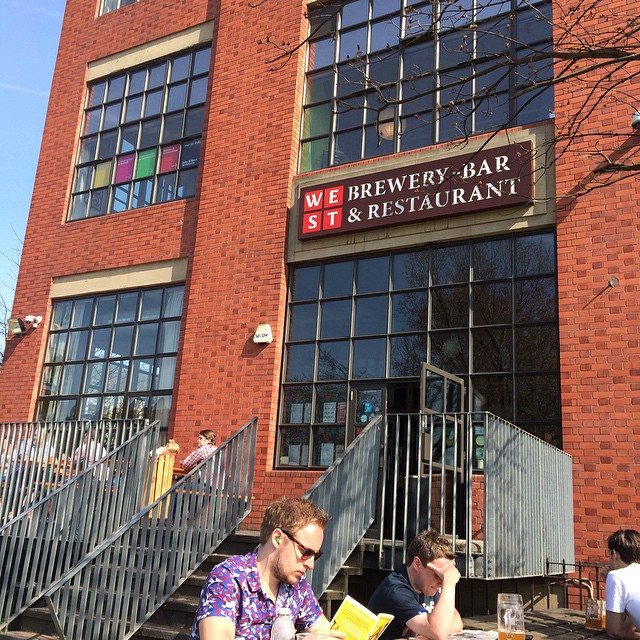 The weather seems to have turned now but it was absolutely glorious for a few days this week. I took full advantage of my self-employed status on Wednesday and had a long lunch at Glasgow's favourite beer garden, WEST.
This weekend I'll be mostly seeing friends and catching a couple of events at Aye Write, Glasgow's book festival. What are your plans?
Here's some reading to keep you going.
–– ON ROBOTNIC.CO ––
Oh. It's probably about time I posted something here, huh?
On my business blog, 2 New Podcasts for Microbusinesses that I've been enjoying lately (bigger businesses will get plenty out of them, too).

–– ARTS & CULTURE ––
"I think that people should be nervous because women are emailing each other. Women are DMing each other. The women are talking. The women are emailing."
The Women Are Emailing. I bloody love this. Shoot me an email, ladies.
On Binge Reading Disorder. Do you suffer from it? Interesting that we're more likely to share an article we haven't finished. I wouldn't say this isn't true for me.
"Get a day job, but don't get too good at it. It will take you away from your writing." – Mad Men Creator Matthew Weiner's (somewhat self-aggrandising) advice for writers.
Might as well make it 3 weeks in a row: Broad City again – Season 1 is finally available in the UK, on iTunes.

–– DIGITAL ––
On the rise of IMing in the workplace: Are You Just LARPing Your Job? The way a lot of media people I hear on podcasts and follow on Twitter talk about this kind of thing – probably. But maybe I'm bitter because I have no colleagues to LARP with.
Anita Sarkeesian's Guide to Internetting While Female is super informative – a must-read.
YouTube is moving towards an ad-free, paid subscription offering. The spread of income isn't yet clear, and it seems to turn its video eco-system into something of a zero-sum game for creators.
If you're interested in the above, give the latest episode of the Hello Internet podcast a listen. Both hosts – CGP Grey and Braday Haran – are independent YouTube creators and raise some interesting potential issues with the new offering.
A great interview with Amanda Hess on Zulkey. "When I write about men… the comments tend to be really pleasant. Isn't that annoying?"
Inside the Podcast Brain: Why Do Audio Stories Captivate? from The Atlantic.
This tweet.

> Unsubscribe from LinkedIn > Delete email account > Sell house, live in woods > Find bottle in river > Has note inside > It's from LinkedIn

— ☆ (@darylginn) April 21, 2015
–– ON PAPER ––
Docket cleared, time for some new books this week! This morning I read It was snowing butterflies by Charles Darwin, an extract from The Voyage of the Beagle that's part of the Penguin Little Black Classics Series.
This weekend I'll be digging into The Gracekeepers by Kirsty Logan – another local debut (and how bloody gorgeous is the cover?!).
I could use a laugh too, so maybe I'll dip into my advanced copy of Limmy's Daft Wee Stories, which looks excellent and comes out this summer. So many great Scottish titles out this season.
What's on your nightstand?

–– &c. ––
"Men must learn to be silent. It must be very painful for them, to silence in themselves the voice of theory, the practice of theoretical interpretation. They have just got to get treatment." – Marguerite Duras.
Socks and Singleness: what we take for granted. Kate Foster on the importance of appreciating what we have, when we have it.
On The Butter: The Murder of Crows. Just give it a go.
How to Pleasure Your Man in 11 Easy Steps. lolz.
​Have a lovely weekend, friends!