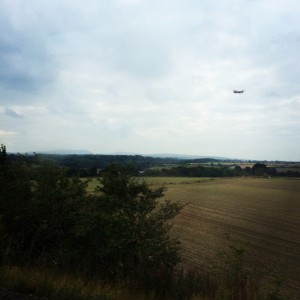 Happy Friday, readers!
It is pretty much the most glorious September ever. It's like 20C! I could not be happier.
Let's not waste any time and get on to the links!
–– ON ROBOTNIC.CO ––
I spent last weekend at Imagination Festival, live-tweeting away and sharing their great discussions with the world. So, on my business blog, I dropped some tips on The Art of Live-Tweeting your event.
–– ARTS & CULTURE ––
The lovely BookTuber Ron has been on her game lately. I loved this video about Eliza Haywood HBIC (Hot Bitch In Charge, duh!). If the next one isn't on Nellie Bly I'mma throw in on that one.
Megan Daum profiles Lena Dunham in the New York Times, ahead of Dunham's forthcoming book. They also published an excerpt, Growing Up in Therapy, which I'll wait to read in the book. (Incidentally, I'm so fed up with elder writers' insistence that 28 is too young and inexperienced an age to write a memoir. I hope she's kept all the interesting [read: frustrating, confusing, inhibiting] years that "experienced" writers edit out.)
Film v Movie – which side are you on? I use them interchangeably because fuck it.
–– DIGITAL ––
How copyright became the best defense against revenge porn. It's not perfect, but we're getting there.
Every so often, I forget that Sadie Stein writes an awesome daily Paris Review blog. Then I remember and have a binge. Recent favourites: Snow Day, Charmed Objects.
–– ON PAPER ––
I'm currently 7 books ahead on my 52 books goal. A few highlights from my recent reading:
1. Patti Smith's Just Kids – it's as moving and lyrical as you've heard it is. Have you read it yet?
2. Nick Hornby's More Baths, Less Talking – which is the lasest of a series of books which reproduce his reading column for The Believer magazine (sometimes published as The Polysyllabic Spree). His column and the magazine have been going for 10 years now, and I plan to buy the omnibus, Ten Years in the Tub, very soon.
3. I'm currently reading and thoroughly enjoying Bad Feminist by Roxane Gay, particularly her Scrabble antics and cultural commentary.
4. I'm also beginning my journey with the original Sherlock Holmes stories, beginning chronologically with A Study in Scarlet.
Do you have any book recommendations for me?
–– &c. ––
The mystery of Jack The Ripper's identity has been cracked. And he sounds like a right nasty wee Elliot Rogers-type character.
Illiteracy in Britain is growing with nearly HALF of poor 11 year-olds leaving primary school under-literate. Save The Children is campaigning for improvement, here's my friend Jean's video on the topic.
What were your favourite reads of the week?