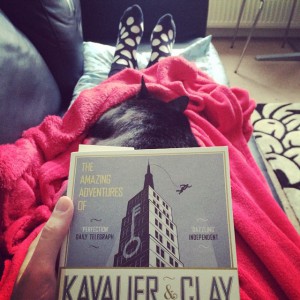 Busy week! How was yours?
This week is a bit heavy in the Lena Dunham department. I can't help it that she has a book out! Incidentally, I've read the first chapter so far and… well, we'll see.
If you hate her, don't worry. It's all over after this – I promise.
Incidentally, last week I added a segment titled 'Ladybits'. This week is almost entirely comprised of 'ladybits' – so, enjoy.
–– ON ROBOTNIC.CO ––
Not much to see here! But I did write a bit more about my intentions and reading history in The Essayist Project: An Introduction.
–– ARTS & CULTURE ––
Is This a Golden Age for Women Essayists? Says Cheryl Strayed: "As long as we still have reason to wedge "women" as a qualifier before "essayist," the age is not exactly golden." Amen, lady. I mean, writer person.
& in related: Non-Fiction Deserves a Nobel. If Bertrand Russell and Winston Churchill once got them, why hasn't anyone since? Get it sorted, Nobelers.
This week in fictional characters' reading lists…
Daria's Reading List. I didn't ever watch much Daria, but she's still a kindred spirit.
From the guy who pulled together all 330-some books mentioned in Gilmore Girls, here's a smattering of 7 Gilmore Girls-related books to read now. It's nice to have them narrowed down. Plus, I'm currently reading The Amazing Adventures of Kavalier and Clay so I'm basically already participating.
How to Learn: Lewis Carroll's Four Rules for Digesting Information and Mastering the Art of Reading. Simple, yet effective. The kind of thing that makes you go, "Oh… I knew that. I should actually, like, do it."

–– DIGITAL ––
The brilliant Veronica aka Ron Lit is bringing academia to BookTube (YouTube for books). I like her latest video so much I'm embedding it.
& did you hear that Roxane Gay is starting a new The Toast sister-site called The Butter? I can't wait.
–– LADYBITS (AKA ROXANE GAY/LENA DUNHAM CORNER) ––
Powerful stuff from Roxane Gay on The Price of Black Ambition.
Don't Love or Hate Lena Dunham. Create More of Her. The pressure on young female celebrities is unsustainable. The name is tangential to the point: WE NEED MORE WOMEN IN MEDIA SO THAT ONE WOMAN DOESN'T REPRESENT THE LOT OF US. Okay? Okay. Let's work on that. Props to the writer, Rebecca Traister, and New Republic – you'll be seeing more of them here soon.
In related: Sally Ride & the Burden of Being "First". Not like the first to comment on an article, but be the first lady to do stuff. In case you weren't sure.
Roxane Gay Talks to Lena Dunham About Her New Book, Feminism, and the Benefits of Being Criticized Online. Cool.
Tech's gender problem abounds. Fortunately, some companies like Etsy are leading the way to parity.
–– ON PAPER ––
Okay so, yes, I'm still reading The Amazing Adventures of Kavalier and Clay by Michael Chabon.
As mentioned at the top, I also started Lena Dunham's book, Not That Kind of Girl.
What book(s) are you currently reading?
–– &c. ––
This Twitter exchange.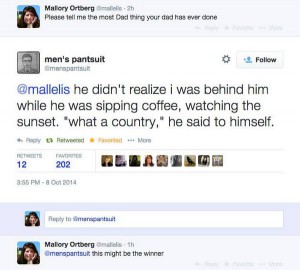 What were your favourite reads of the week?