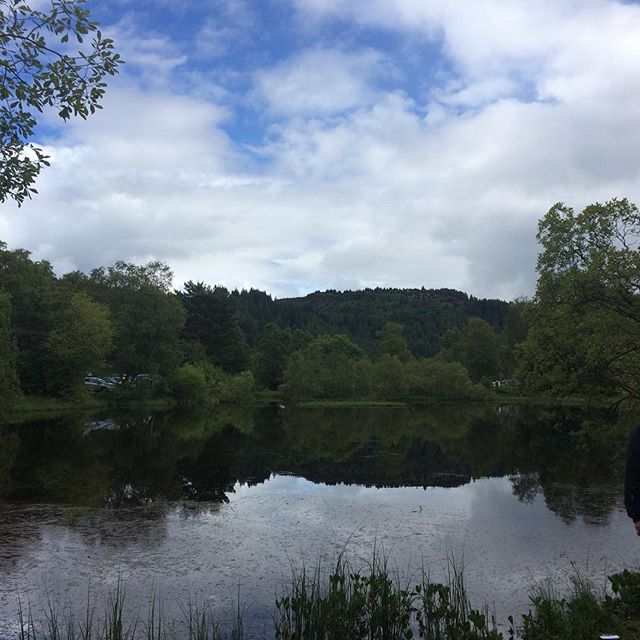 Good morning, friends. How is your week going?
Mine ended, or began, depending on how you look at the calendar (are you a week starts on Sunday or Monday person?) at a beautiful place under sad circumstances. The family went up north to Aberfoyle to scatter my Grandma's ashes.
The rest of the week has been a push to get back into work mode interspersed with friendly catch-ups: one of the highlights of returning from a long break.
Hope you've had a good one too. Here are some things to click on.
–– ON ROBOTNIC.CO ––
It's Bookish Blether Episode 14 already? We finally broach the subject of Book to Film Adaptations.
A bit of a repeat, but I shared my Favourite Books of 2015 So Far – this time in video form.
I also published some Lessons from Small is Beautiful over on my business blog.
–– ARTS & CULTURE ––
Pixar and the Incredibly Canny Valley. I am so much more excited for this than for Inside/Out.
Diversity in UK Publishing Still a Challenge. Come on, guys. Don't make it so hard for yourself.
Jon Ronson interviews Katie Hopkins; tries not to publicly shame her. Honestly, I couldn't have told you how she ever got famous before reading this.
I love this Obsessively Detailed Map of American Literature's Most Epic Road Trips from Atlas Obscura. I'd probably take Steinbeck's from Travels with Charley, personally.
–– LADYBITS ––
Jess Zimmerman asks "Where's My Cut?": On Unpaid Emotional Labor. ALL OF THE PRAYER HANDS EMOJIS.
Ladies' Man – Melissa McEwan tries to explain her partner's respect for women; kinda gets tied in knots.
Emma Thompson says that sexism in acting industry is worse than ever. The film industry is just the worst. See also:
Jesus Christ. pic.twitter.com/DNp3C2AnML

— Lauren Evans (@yeslaurenevans) July 20, 2015
On a brighter note! 'She's the coach and we listen': Becky Hammon beats up the NBA Summer League. Eff yeah lady coaches.
Lindy West: My wedding was perfect – and I was fat as hell the whole time. One of my main takeaways from my own wedding research came from Lisa Eldridge, who advises you look like yourself for your wedding. She was talking about make-up, but this totally affirms it.
–– DIGITAL ––
I haven't signed up to, or recommended, any new newsletters lately – so I'll refer you to these recommendations instead. (I'll also second them on READ.LOOK.THINK., Ann Friedman Weekly and Everything Changes.)
A great video from Tales of Mere Existence on what it's like to live through the California Drought.
Another lovely video: First and Final Frames of films, edited by Jacob T. Swinney. How many do you recognise?
–– ON PAPER ––
I'm currently reading Oranges Are Not the Only Fruit by Jeanette Winterson. It's actually totally hilarious? Maybe it's my ultra-dry, wry sense of humour, but no-one mentioned it.
On audio I'm taking in Between the World and Me by Ta-Nehisi Coates, which is pretty remarkable. It's only around 175 pages / 3.5 hours. Here's a great interview with him, where he describes it thus: "it's not a bowl of sugar. It's dark chocolate. It's a little bitter. And that's how it's supposed to be."
What's on your nightstand?


–– &c. ––
She's baa-aack… An Interview With Rachel Dolezal:"It's not a costume." Reported with a healthy dose of skepticism.
And just for fun, Letter of Recommendation: Summer Fridays.
Read anything good this week? Hit reply or tweet me with a link.
​Have a lovely weekend!