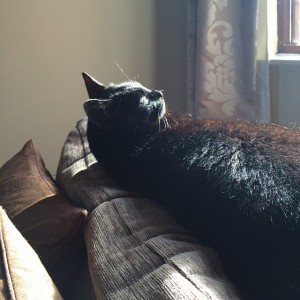 Welcome to Reading Week #28!
If you're reading this by email I'm a little late today. Sorry! I had a little bit too much fun last night.
I'm off to London this weekend to visit friends and attend a work-related thing on Monday. What are you up to?
–– ON ROBOTNIC.CO ––
The Essayist Project finally kicked off proper with my thoughts on Bad Feminist by Roxane Gay.
An overdue video, my July to September Reading Wrap-Up. "Pithy" short reviews of the 19 books I read in that time.
Another video, this time On Reading Diversely.
–– ARTS & CULTURE ––
Why Douchebag is the Racial Slur We've All Been Waiting For by Michael Mark Cohen. See also: why we need more academics writing accessible, funny pieces on topics like this one.
I've spotted one or two "Emotional Support Animals" around airports recently. The worry is that the many will ruin it for the few. New Yorker writer Patricia Marx took it to the level of farce in this great piece: How to Take Your Pet Anywhere.
I'm a Black Journalist. I'm Quitting Because I'm Tired of Newsroom Racism. Says Rebecca Carroll in the New Republic, a publication that doesn't have the best reputation for diversity.
–– DIGITAL ––
"Shia LaBeouf" Live – Rob Cantor
The funniest viral video I've seen in years. Those production values tho!

An author thinks she's being catfished. A blogger explains why her actions were threatening. Can we just not publish these things anymore, please? Thanks.
We must stop praying to our iPhones: Dissent and critical thinking in the Internet era. This guy has some strange arguments.
–– ON PAPER ––
As you can probably tell from the above, it's been a slow reading week for me.
I'm currently reading Confusion by Stefan Zweig and Not That Kind of Girl by Lena Dunham.
What have you been reading this week?