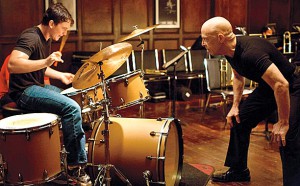 Today I'll be on the BBC Culture Studio to review this week's new film releases with Janice Forsyth and Stephen Carty.
Under review today are:
Clint Eastwood's latest, American Sniper, starring Bradley Cooper & Sienna Miller
Whiplash – my film of the year so far, starring JK Simmons. You know, the drumming one.
Reece Witherspoon as Cheryl Strayed in Wild
and First World War drama Testament of Youth, based on the memoir by Vera Brittain and starring Alicia Vikander and Kit Harrington
We'll also be discussing the BAFTA nominations and today's Oscar nominations.
The show airs from 2pm on BBC Radio Scotland. Tune in to the live stream here.