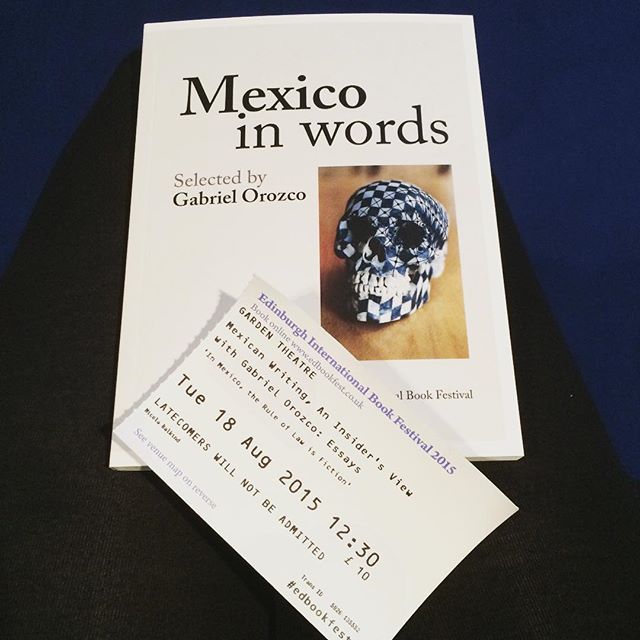 Happy Friday, friends. How's life treating you this week?
I've barely been at my desk. With two days Edinburgh Festivals it's been a busy out-and-about kind of week.
I attended three great events at the book festival, including one on Mexican writers and one with the fantastic Mexican novelist Yuri Herrera. I also saw the gut-punch of a stage adaptation A Girl is a Half-Formed Thing at the Traverse. It's been intense, you guys.
Now I'm waiting for back-to-school mode to hit. Til then, let's read some links, shall we?
–– ON ROBOTNIC.CO ––
Appropriately, the latest episode of my podcast, Bookish Blether, is on our love of longreads. Stand by for a million recommendations from Holly and me.
Also in books, I'm currently participating in Bout of Books 14 – reading from this pile – and I finally finally uploaded my July Reads.
Last week I forgot to mention my business blog post on How to Make Time for Personal Projects. This week I followed that up with a post on How I Use Evernote, with some pointers.
–– ARTS & CULTURE ––
I saw Mistress America this week – and this interview with Greta Gerwig from Little White Lies is a great complement. We need more (prominent) filmmakers like her. Can't wait for the new Mike Mills now!
This Lit Hub chat about with writers on their favourite tools (as in stationery) gave me heart-eyes.
Out of Bethlehem – an interesting piece on "the radicalization of Joan Didion". Reads rather like Joan Didion. I guess it can't be helped.
See also:
Are Didion Chicks the female equivalent of DFW Bros?

— Rachel Fershleiser (@RachelFersh) August 20, 2015
*scrunched up face emoji*
–– DIGITAL ––
At last! A refreshingly non-judgmental piece about The Rise of Phone Reading! Includes some surprising stats.
Caitlin Dewey wrote this much-needed explainer for over-30s about why social media stars really, truly matter.
From way back in the archives, I enjoyed this Longform interview with reporter Starlee Kine – host of Mystery Show and long-time contributor to This American Life.
–– ON PAPER ––
Bout of Books 14 is going well – I finished the okay Territorial Rights by Muriel Spark on Sunday before it even began; the dark and slightly dissatisfying The Dinner by Herman Koch on Monday; and the masterful The Driver's Seat, also by Spark, on Tuesday.
I also made some new purchases at the Edinburgh Book Festival book shop – an annual favourite – which I'll get to just as soon as I finish The Trick is to Keep Breathing by Janice Galloway and Pinball, 1973 by Haruki Murakami. Hopefully.
Which books are on your nightstand?


–– &c. ––
From Melanie Pinola: How Being Non-Confrontational Has Held Me Back in Life. I identified.
Two great pieces on the first-generation experience:
1. What It's Like Speaking A Different Language From Your Parents by Zakia Uddin for Buzzfeed
2. Tan Lines by Durga Chew-Bose, published on Medium.
––
Read anything good this week? Hit reply or tweet me about it, won't you?
​Have a lovely weekend!